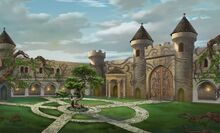 Thorngate Castle is a location in The Crown & The Flame series. It is the seat of the Thorn Family and it is located in the Kingdom of Bellmere.
The Crown & The Flame
Book 2 of the Crown & The Flame opens with Kenna Rys and her army fighting to take Thorngate from Vassilios Nevrakis. When he is defeated, the player can choose to have Rowan Thorn rule her kingdom or leave it under the rule of Leon Stirling.
Ad blocker interference detected!
Wikia is a free-to-use site that makes money from advertising. We have a modified experience for viewers using ad blockers

Wikia is not accessible if you've made further modifications. Remove the custom ad blocker rule(s) and the page will load as expected.