Choices: Stories You Play is a story app, with dozens of stories, ranging from horror, to romance, to fantasy, or mystery, you are the one who chooses its path. Here is a list of all the current stories that have been released in the game.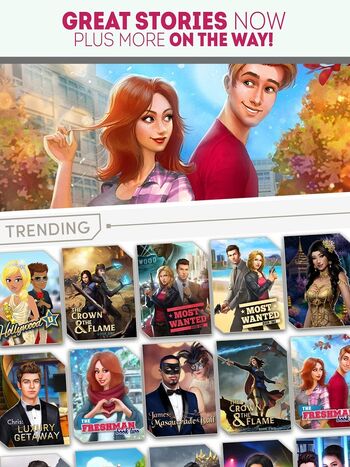 The Freshman
Premium Dates
Holiday Specials
The Crown & The Flame
Most Wanted
Rules of Engagement
RoE Special
Endless Summer
#LoveHacks
The Haunting of Braidwood Manor
The Royal Romance
The Sophomore
Holiday Specials
Hero
High School Story
It Lives In The Woods
Red Carpet Diaries
Ad blocker interference detected!
Wikia is a free-to-use site that makes money from advertising. We have a modified experience for viewers using ad blockers

Wikia is not accessible if you've made further modifications. Remove the custom ad blocker rule(s) and the page will load as expected.