Mechawolf Pup, a character in "The Crown & The Flame" series, is a wolf found by Empress Azura's guards. It is first seen in Book 3, Chapter 1. Its default name is Sparky, but the player can choose a name for it.
Appearance
Personality
Mechawolf Pup is very energetic and affectionate.
Relationships
Azura
Azura restores its life. Despite this, he doesn't like her very much, and doesn't trust her. He calls her "Tall Lady".
Whitlock
If the player chooses to take the wolf pup, Whitlock gives it a mechanical leg and ear and the ability to talk. He calls Whitlock "Metal Man".
Kenna Rys
If the player chooses to take the wolf pup, he is very affectionate towards Kenna. He calls her "Blue Lady".
Luther
He calls Luther "Smelly Dungeon Man".
Other Looks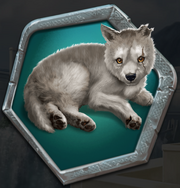 Ad blocker interference detected!
Wikia is a free-to-use site that makes money from advertising. We have a modified experience for viewers using ad blockers

Wikia is not accessible if you've made further modifications. Remove the custom ad blocker rule(s) and the page will load as expected.