Logan, a character in "The Freshman" series, is an upperclassman at Hartfeld and a member of Hartfeld's football team "Knights". He first appears in Book 1, Chapter 5. Your Character is able to meet him in Chapter 1, if she wears a bikini and goes on the 'slip 'n slide'.
Appearance
Logan has black hair, light skin and brown eyes. He wears a black-grey sweater.
Personality
Relationships
Darren & Chris
Darren and Chris are Logan's football buddies. They're coming along very well. In Book 2, Chapter 14, it's mentioned that Logan and Darren are also roommates, as Chris tells he'd spend the night at their place.
Madison
In Book 2, Logan is crushing on Madison (He even calls her the love of his live) and fights with Tripp over her attention. Logan and Madison go to the boat dance together if the player wishes so.
Becca
Becca and Logan are good friends. She once cussed an ex-girlfriend of Logan, who cheated on him, in front of the entire dorm.
Trivia
He has worn a bra before but refused to go into detail about it.
Other Looks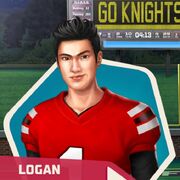 Ad blocker interference detected!
Wikia is a free-to-use site that makes money from advertising. We have a modified experience for viewers using ad blockers

Wikia is not accessible if you've made further modifications. Remove the custom ad blocker rule(s) and the page will load as expected.